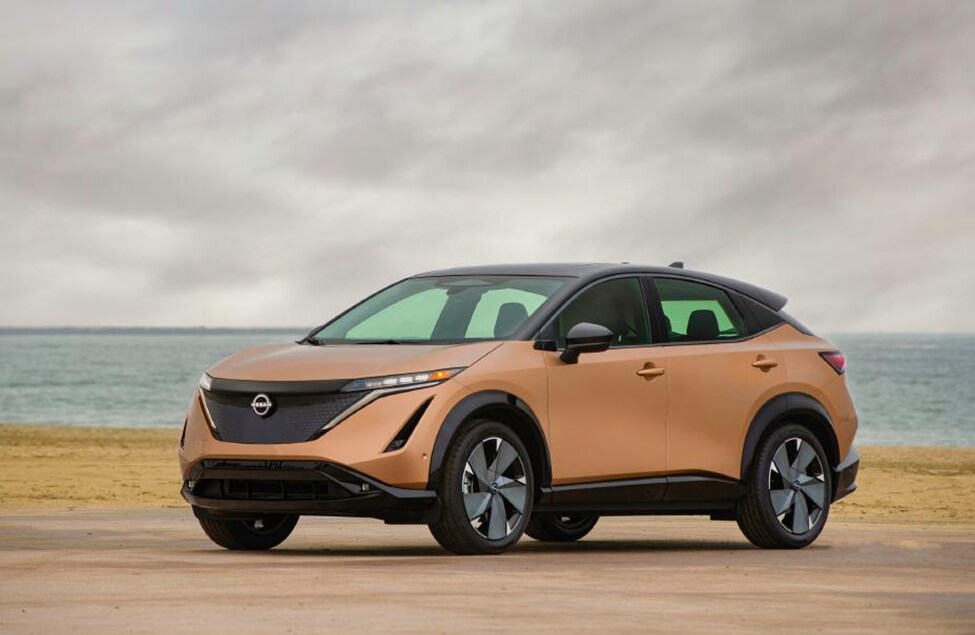 2023 Nissan ARIYA vs 2023 Kia EV6
Nissan has been a leading company in the EV market since its release of the LEAF a little over a decade ago. And now with the sudden rise of all-electric vehicles becoming more normalized, the brand is ready to release its next EV model otherwise known as the ARIYA. On the other hand, Kia is also doing their part in the electric car community by designing the EV6. As far as all-electric SUVs go, which one is the better deal? Maus Nissan of North Tampa is here to help you out!
2023 Nissan ARIYA vs 2023 Kia EV6
Switching over from a traditional gas vehicle to an all-electric one can be a daunting task, but Nissan and Kia aimed to make the decision easier and more adaptable with a wide range of trims that offer varying specs that best cater to your personal driving experience. However, new EV drivers will appreciate Nissan's selection of 8 ARIYA trims, most of them with a starting price of below $50,000 or just a tad over. The EV6 only offers 5 trims with most of them being closer to $60,000.
Performance
The ARIYA isn't just a regular SUV to meet Nissan's quota for their EV lineup. The ARIYA has had exceptional care put into its overall design including a powerful motor system paired with a wide range of driving technologies for a smooth ride that'll have you feeling like you're riding a cloud. First off, the e-4ORCE All-Wheel Drive system is built with two motors for up to 238 horsepower and a 304-mile range. As for additional features to enhance your drive, you can expect high precision no matter the road conditions due to the ability to transfer power from the front to the rear wheels on the fly and the inclusion of independent wheel torque that actively works to balance out any under or over-steering. Even as you apply the brakes, the ARIYA's platform is designed to adjust the vehicle's motion to encourage a smooth stop.
Although the EV6 supports up to 310 miles, it's lacking in intuitive driving technologies like what the ARIYA has. And beware of advertisements that state 576 horsepower as that's only available in the GT trim which is specifically crafted for the racetrack and is impractical for the average market. When you take a look at the more affordable base trim, the EV6 caps out at 225 horsepower which is significantly under the ARIYA's 238.
Safety Features
Nissan continues to impress in the safety category with the new and improved ProPILOT Assist 2.0 which comes standard in every ARIYA model. The enhanced ProPILOT 2.0 system supports guided freeway driving that alerts you of when your exit is coming up and when to switch lanes while watching your back as you do so. It even allows for hands-free driving as needed under certain conditions. And by simply holding down a button, ProPILOT Park can park the ARIYA for you. You can also get a head-up display and Navi-link in your ARIYA along with dynamic features such as:
●       Intelligent Rear-View Monitor
●       Intelligent Around-View Monitor
●       Intelligent Forward-Collision Warning
●       Intelligent Blind-Spot Intervention
●       Automatic Emergency Braking with Pedestrian Detection
●       Rear Automatic Braking
Kia diverted most of their attention to the performance aspect of their nearly-unattainable EV6 GT model that the safety features, in general, are somewhat lacking. You get the basic Kia Drive Wise package with various monitors and emergency braking. You won't find nearly as many "intelligent" features and you'll find that the ARIYA is a better companion on the freeway.
Interior
The most distinct first impression of the ARIYA's cabin is how spacious it is compared to most vehicles. The basic controls can be found as touch buttons fused into the dash as opposed to traditional analog buttons, and the sliding center console includes a peculiar gear shift that's shaped similarly to a mouse for a desktop computer. For a comfortable drive, the ARIYA supports Zero Gravity seats that are difficult to resist. A 12.3-inch dual panoramic touchscreen displays easy-to-use and visually-appealing customizable apps to make the ARIYA truly yours, and of course, it's not a party without a premium Bose audio system!
The EV6 also comes with a 12.3-inch dual panoramic touchscreen, but the layout of the operating system isn't nearly as satisfying and the ARIYA even keeps your vehicle from becoming outdated by supplying you with updates. When comparing cargo space, the EV6 has a maximum of 50.2 cubic feet of storage while the ARIYA can hold up to 59.7 cubic feet. Also, the EV6 has an available Meridian sound system which isn't as preferred as Bose.
Bottom Line
For a much lower starting price, the 2023 Nissan Ariya has much more promise and is an excellent choice for those who are getting into EVs for the first time or are looking for a substantial upgrade. The Kia EV6, however, is destined to cost much more with less payout.
Ask Us About the 2023 Nissan ARIYA!
If you want to know more about how you can get your hands on a brand-new 2023 Nissan ARIYA, call Maus Nissan of North Tampa today at (813) 800-6287 to speak to our friendly sales team for more information. We'll gladly fill you in and tell you what you need to do to secure your next EV!