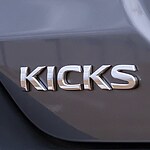 When you need a subcompact SUV that is both reliable and practical, there's the Nissan Kicks. The Kicks is a family-friendly go-to for daily commuters, especially on the highways in Tampa, FL where this SUV snags, on average, 37 MPG. Of course, there are other perks to owning a Kicks, like a spacious interior, Nissan Connect infotainment systems, and lots of cargo room.
As for add-ons, the Nissan Kicks' accessories allow you to build and customize this SUV to make it your own. Love color? The add-on side mirror caps and door handle covers are available in five bold, unique tones. Or, you could go with a safety accessory, like the LED fog lights for better highway vision and a brighter, clearer roadway.
Interested in learning more about the Nissan Kicks? Come see us at Maus Nissan of North Tampa for more info about accessories and overall features. You could even take a test drive for personal experience.