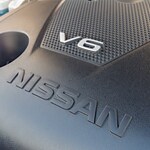 Full-size vehicle enthusiasts prefer the Maxima for the sedan's spacious interior and overall modern but elegant appearance. Bolstering and support ensure that all occupants enjoy comfort during short and long journeys. But, Nissan also designed the sedan to have more than sufficient power.
All of the Maxima models have a six-cylinder 3.5-liter engine that gets up to 300 horsepower. The vehicles are also equipped with an automatic continuously variable transmission. The powertrain equips the sedan with the ability to attain speed from the get-go, whether accelerating after a stop or needing more effort while traveling down the highway. Despite the Maxima's power, the vehicle has an EPA rating of 20mpg/30mpg.
The vehicle's electronic chassis provides a smooth, comfortable ride. Occupants barely realize when the sedan journeys over any road imperfection. A sport-tuned suspension is available to further enhance handling and maneuverability. Meet the new Maxima models at Maus Nissan of North Tampa.