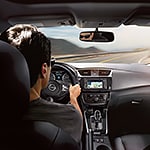 A headliner in the new midsize sedan market, the new Sentra from Nissan comes with some of the most exciting accessories available for new cars today. These accessories not only make your Sentra look better. They also add to the overall function and quality of the car.
When you buy the Sentra, for example, you can ask the dealer to install its optional four-piece window deflector set. This set does not require any drilling on the car itself. However, it effectively blocks out air noise and glare from the sun to let you roll down your window and enjoy fresh air while you drive.
It also has a splash guard set that you can have the dealer install at the time of purchase. This splash guard set keeps mud and muck off important fixtures like the tires and lower part of the doors. It also shields the body from small debris like pebbles.