First and foremost, we want you to know that we value the health and safety of our customers and staff. During this time, we want you to know that Maus Family Automotive has been and will continue to do our part to help mitigate the global pandemic.
We continue to monitor information from state health authorities and the CDC for their guidance and recommendations on how we can help to prevent the spread of this virus.
We have taken extreme precautions:
Thorough cleanings of all dealership facilities daily.
Service and waiting areas are cleaned hourly with anti-microbial disinfectant.

High-Touch surfaces such as door handles, railing, etc are cleaned every 20 minutes.
Minimal contact service check-in's are available. 
Outside waiting areas with shade, seating, and tables are provided.

Valet shuttles are sanitized frequently.
All vehicles purchased within the last 3 years of March 2020, equipped with MausCare, will receive a free reapplication of Surface Shield, n industrial strength anti-microbial designed to destroy viruses and bacteria.
Nurses, Doctors, and First Responders, will receive 20% off their service work, free valet services, and a free cleaning and sanitation of their vehicle with Surface Shield as a Thank You for all that you do to protect our community from this pandemic.
Vehicles purchased from Maus, not equipped with MausCare: To mitigate the spread of bacteria and viruses, we can apply Surface Shield, an industrial strength anti-microbial designed to destroy viruses and bacteria, at your request for a heavily discounted price of $79.99 (regularly $199.99) any service purchase of over $150 will receive Surface Shield at no cost.
Sanitizing gel and foam stations available on-site
Providing our staff with specific instructions on hand washing and the importance of staying home if they are not feeling well.
Staff is not permitted on site with any symptoms of COVID-19 without clearance by medical professionals and negative results of COVID-19. 
Practicing Social Distancing. Adhering to the recommended six feet of social distance from other staff and customers.
Check out the brief video of Surface Shield by Vice President, David Maus Jr below!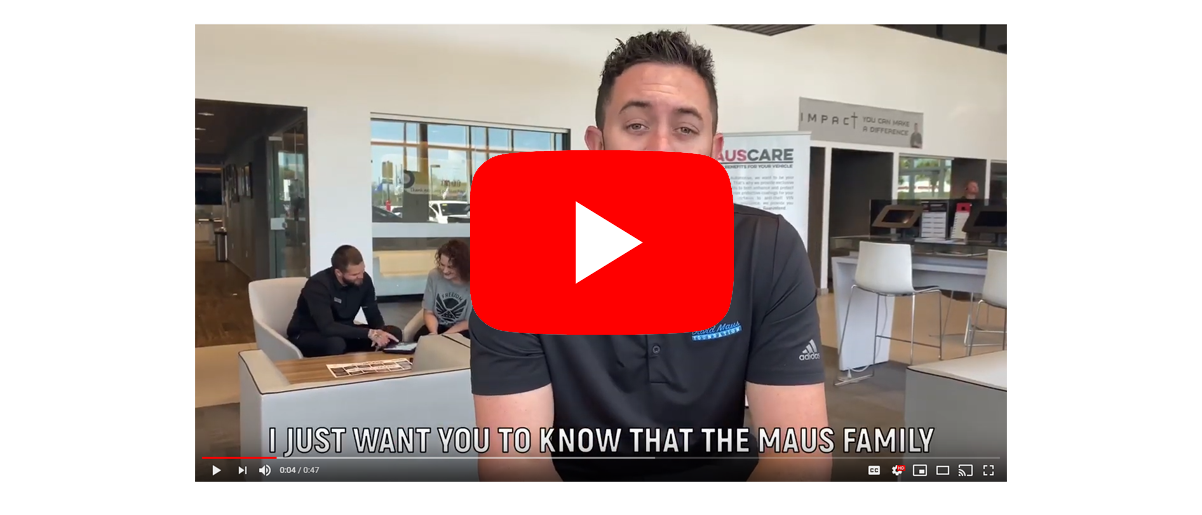 Our website is a helpful resource for shopping and researching vehicles, finding service and parts information, and communicating directly with the dealership. We will also continue to offer vehicle pick-up and delivery services.
No matter the department you're looking to reach, we have staff available to answer your questions and assist with your needs. You can connect with a member of our team by phone, email or through our website.
Together, we can maintain a healthy environment and combat the spread of COVID-19.
On behalf of our dealerships, thank you for being a loyal customer. Please don't hesitate to reach out as we remain dedicated to serving you for all of your automotive needs through this challenging time.