Maus Nissan of North Tampa compares the 2023 Nissan Z and the 2022 Ford Mustang.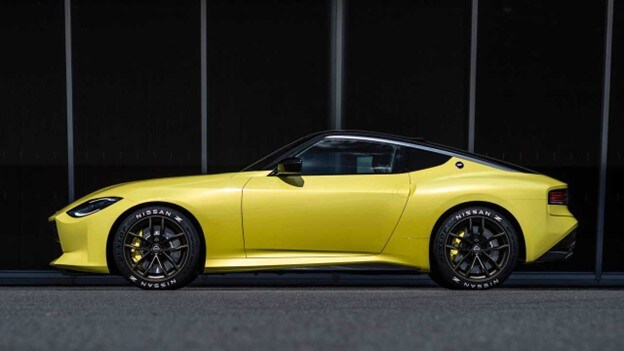 2023 NISSAN Z VS 2022 FORD MUSTANG GT
The Ford Mustang has made a prominent name for itself over the years, but is the Nissan Z enough to steal the spotlight? Even if you don't hear its name as often as the Mustang, the new 2023 Nissan Z has a lot to write home about. The enthusiasts at Maus Nissan of North Tampa will show you around these two incredible contenders.
2023 NISSAN Z VS 2022 FORD MUSTANG GT
Numbers are great for a quick reference, but the finer details are where it really counts. That is the Nissan Z's strong suit, and it's extremely apparent during every thrilling drive. So while the Mustang has impressive stats and a name to live up to, relying on that alone may have caused the brand to let its guard down and neglect some other aspects.
Performance
The Nissan Z has a 3-liter Twin-Turbo V6 engine maxing out at 400 horsepower which is more than enough for you to get your thrills, and the rest of the magic happens within the intuitive technology of the parts themselves. Opting in for the feel-good 6-speed manual transmission will get you new synchros to help you control such raw power while the new 9-speed automatic transmission is enhanced with shift-by-wire technology for an incredibly dynamic drive. You can even opt-in for a mechanical limited-slip differential for taking smoother corners with a stronger road grip. The Launch Control feature is designed to help your wheels keep their grip on the road while maintaining your rpm and paving the way for powerful acceleration. Additionally, mono tube shocks, rear suspension tuning, and electric power steering each have their roles in offering you an intimate experience. As for the icing on top, available sports brakes supply you with 14-inch front rotors with 4-piston calipers.
Even the structure and build of the vehicle itself were expertly crafted for better performance. Suspension is improved with a stiffer chassis with a 10%+ increase in the rigidity of the torso. For the rear-wheel drive design, the engine is placed towards the rear of the chassis to improve the Nissan Z's overall balance. The presence of an aluminum-alloy block is integrated for a lighter feel which works in tandem with a water-cooled intercooler to disperse heat.
The new Ford Mustang is very straightforward when it comes to performance. It comes equipped with a 5-liter Ti-VCT V8 engine supporting 450 horsepower. Transmission options include a 6-speed manual and a 10-speed automatic. Other than that, the Mustang doesn't have much to show off. Although the power in numbers is slightly more than the Nissan Z, it suffers from poor fuel economy in comparison. This just goes to show that relying on clout doesn't always bode well.
MPG Ratings
| | |
| --- | --- |
| 2023 Nissan Z | 2022 Ford Mustang GT |
| 19 City / 28 Hwy | 15 City / 24 Hwy |
Safety Features
Preventative safety is the best kind of safety and Nissan has you covered in that department. Automatic Emergency Braking with Pedestrian Detection acts as your second pair of eyes and takes action when necessary. Intelligent Forward Collision Warning, Blind Spot Warning, Rear Cross Traffic Alert, and Lane Departure Warning all work in a similar fashion in staying proactive to help you avoid incidents before they happen. High Beam Assist is a nice touch that will allow you to adjust your lights at night without having to lift a finger.
Can a safety feature be considered "safe" if it only helps you after the fact? The new Ford Mustang is mainly equipped to assist you post-accident, which can be unhelpful for obvious reasons. It advertises a Personal Safety System which is a fancy phrase for the airbag sensor system. The other listed feature is the SOS Post-Crash Alert System which just flashes your lights and sounds your horn repeatedly (assuming those parts didn't become damaged during the impact) until help hopefully arrives at the scene on time. Basically, be prepared to fend for yourself if you ever decide to drive a Mustang.
Interior
Even the interior of the Nissan Z was built for performance with plenty of attention to detail in the seating. The Z's new seat design provides adequate lateral support supported by slip-resistant material and a center pad in the lower seat cushion crafted to reduce sliding. During more intense drives, knee bolsters are there to provide additional support in keeping you in place.
Up in the dash area, you can choose from three different screens for your digital information cluster with the Sport Mode option being inspired by NISMO racer Tsugio Matsuda in Super GT. Even the leather-wrapped steering wheel takes inspiration from the GT-R R32 as you can see in the unique groove at the very top.
The new Ford Mustang comes with a handful of basic interior features such as dual-zone automatic temperature control, ambient lighting, push-to-start, and a rear-view camera. Optional features include a heated steering wheel, remote start, and memory settings. And of course, no sports car is complete without leather seating. However, there seem to be features lacking in actual sporty aesthetics.
Bottom Line
With the sheer amount of dynamic performance features with a useful interior design to match, the Nissan Z is the clear winner in a battle between sports cars. The Mustang may have just a little more power behind it, but it's not enough to justify the lack of attention in every other category. This is why we'll choose the Nissan Z over the Mustang any day!
Order the 2023 Nissan Z Today!
Can't wait to get your hands on a 2023 Nissan Z? Call your friends at Maus Nissan of North Tampa today at (813) 800-6287 to get on our special list so you can be among the first to hit the road in both power and style!
Hours
Monday

8:30AM-8:00PM

Tuesday

8:30AM-8:00PM

Wednesday

8:30AM-8:00PM

Thursday

8:30AM-8:00PM

Friday

8:30AM-8:00PM

Saturday

8:30AM-8:00PM

Sunday

11:00AM-6:00PM
Make an Inquiry
* Indicates a required field